The prostate
The prostate is a gland in the male reproductive system, situated below the bladder and surrounding the urethra, which carries urine from the bladder to exit the body. The main function is to produce fluid, which nourishes and protects sperm and carries out the semen during ejaculation. A normal prostate is the size of a chestnut and weighs about 20 grams.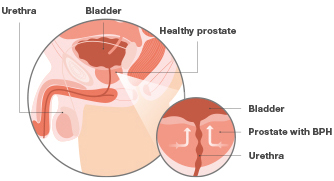 Your prostate naturally enlarges as you get older. In some men this enlargement leads to a condition called benign prostatic hyperplasia (BPH).
Benign prostatic hyperplasia (BPH)
BPH is a very common condition. As many as 50% of 60-year-old men and up to 90% of 80-year-old men are troubled by symptoms of BPH.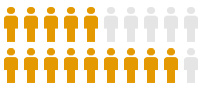 BPH is not cancer, and it cannot turn into cancer. However, an enlarged prostate gland can cause physical problems that may considerably reduce quality of life. The enlarged prostate puts pressure on the urethra, causing it to narrow.
What might BPH mean for you?
Frequent or urgent need to urinate
Increased frequency of urination at night
Difficulty starting urination
Weak urine stream, or a stream that stops and starts
Dribbling at the end of urination
Inability to completely empty the bladder
Less common signs and symptoms are:
Urinary tract infection
Inability to urinate
Blood in the urine
These BPH symptoms may vary in their severity. But in particular the frequent need to urinate and the fear of not being able to reach a toilet in time can impact your daily life.
In an effort to avoid such situations of urinary urgency,
a lot of men with BPH:*
Avoid drinking before bedtime (35%)
Plan their day around their access to toilet facilities (32%)
In consequence, they do not get enough sleep (27%)
Ignoring the symptoms of BPH or postponing treatment will not make the symptoms go away. It is not a solution, either. Leaving BPH untreated may lead to even bigger problems, such as severe urinary tract or bladder infection, bladder stones, or even renal failure.
And for some men it can decrease quality of life and cause social isolation. If you feel like BPH is disturbing your daily routine, it may be time to talk to your doctor about an effective treatment plan. Ignoring the symptoms of BPH or postponing treatment will not make the symptoms go away. Leaving BPH untreated may lead to even bigger problems, such as:
Severe urinary tract or bladder infection
Bladder and/or kidney stones
Renal failure
* Napa Valley Urology Associates. Enlarged Prostate.
http://napaurology.com/mens-clinic/treatment-bph/enlarged-prostate/